And now for a quick peek behind the scenes: get ready for a code update, new interface and new colleagues!
By Amber - on August 09, 2017 comments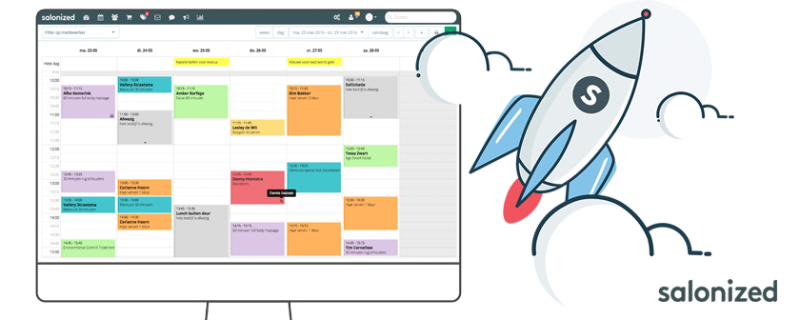 While it is undeniably more fun to launch one new feature after the next, first, it is very important to get the system groundwork perfectly in order. Outdated code needs to be revised, which is also known as a legacy code 'clear-out'. Along with expanding our team, we have recently been putting in some hard work towards making our software faster and more stable.
In order to get this done, we have already successfully transferred most of the functions to our new system. The new system has opened up many more future possibilities, and we can now offer even more stability and speed. Even though this process takes considerable time and effort – the performance and stability benefits will be worth it!
First, we'd like to introduce:
Since January, we have welcomed seven new Salonizers to our team, and we've almost outgrown our office space. We are pleased to introduce our new colleagues!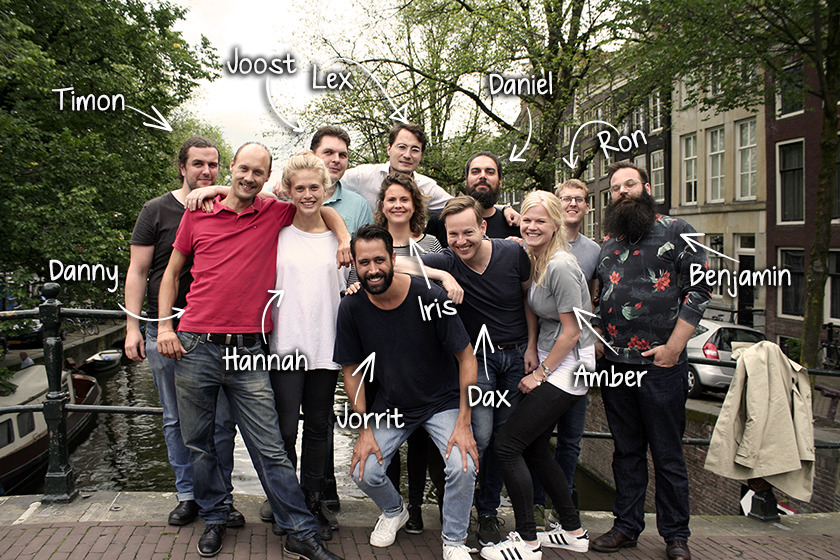 Lex Vergroesen, 25, customer support & growth
Lex has been part of our team since January and he can be quite a chatterbox. There's a big chance you've already talked to him, whether about Salonized, or just about anything else. He lives in the river district of Amsterdam, together with a cute dachshund called Sjors, and his girlfriend Sophie. In his spare time, Lex likes to spin the decks and he often intends to go surfing, but we've never actually seen him get around to it.
Joost Kersten, 32, developer
In order to tempt Joost into joining Salonized, we took him straight to the pub after the first interview. This was definitely a gesture he appreciated and he quickly took us on: since January, he's become a regular fixture at one of our office desks. If he ever decides to have a career change, though, we fully expect him to go into stand-up comedy – but it could be that all his jokes are just the natural result of a daily train journey from Almere to Amsterdam. 
Timon Vonk, 29, developer
Timon is the fitness fanatic in our midst. A few times a week, he likes to work up a sweat doing crossfit, he regularly works standing up and, of course, eats lots of curd cheese. In addition, he also cares for little Evan. Timon is very a busy man! He started at Salonized in April.
Ron Cadier, 33, developer
Ron brings the customary Brabant cosiness to Solanize. He started in May and travels from Eindhoven to our office at the Herengracht in Amsterdam three times a week. He can certainly appreciate the finer points of the capital, but finds the price of a plate of chips and stew here completely absurd.
Iris Hilgevoord, 28, customer support & growth
Iris has also been supporting our team since May. She is a huge Ajax fan and can name all the players from any football team. Every morning finds her busy in her kitchen in the Amsterdam Leidseplein area, only to make the most delicious salads again at lunch.
Daniel Toillion, 33, developer
Daniel is our very first international Salonizer and has been working at Salonized since 1 July. He traded in San Francisco's Silicon Valley for "small town life" in Amsterdam. He's discovering the Dutch love of bicycles, he still needs to get used to strange Dutch expressions like 'kiplekker' for 'awesome', and he finds our famous bitterballen to be very overrated.
Benjamin Udink ten Cate, 33, developer
The legendary Ben has been around since the dawn of the internet. Thanks to his mysterious beard, he always looks very distinguished – an accurate reflection of his serious programming skills. But behind that beard lies an incredibly sweet man who is always up for a pint at the pub. Ben also teaches programming classes and is working on setting up his own business so that he can teach programming to the whole world!
Our new Salonized Interface:
Now, back to code: the recent makeover that Salonized has undergone did not only concern improvements in functionality, but outward appearance as well. The various pages of Salonized have been transferred over bit by bit: first, we started with Customer Management, then we worked on Inventory, currently we are working on the Checkout, and next, we're going to overhaul the Calendar.
Our new customer base
In the new customer profile, you now have the option of adding a follow-up date when creating a note. When you make a note with a follow-up date, it will appear in the calendar on the relevant day.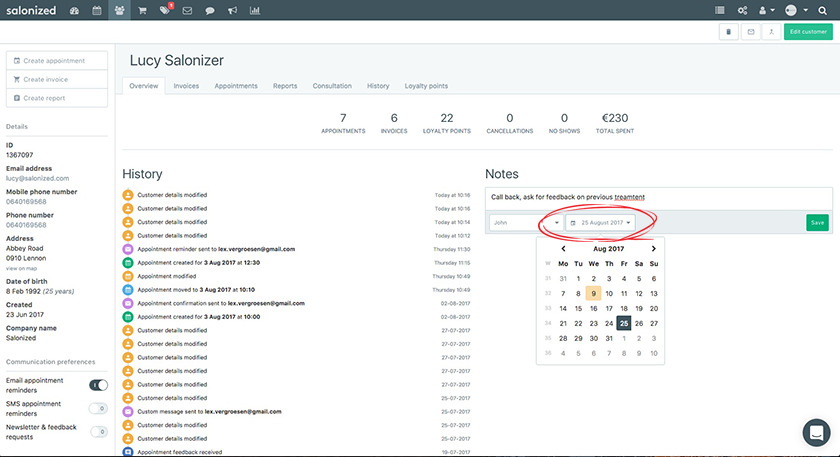 Another new feature, "Find on map", is located by the address. This function has been developed for professionals who (also) travel to their clients. When you search for the address on the map, Google Maps is launched and you can easily find directions. 
Sneak Preview: New Calendar
Salonized's new advanced calendar avoids double bookings by taking into account not just employee availability, but also the availability of the required equipment and/ or treatment room.
In order to do this, you need to provide multiple resources, as necessary. For example: you offer a treatment that can be done by three different employees. You also need particular equipment for this treatment, of which you have two sets. In the current Salonized calendar, this appointment can be booked three times, at the same time, if all three employees are available. However, the new improved calendar will also look at equipment availability. Once both sets of equipment have been booked, another appointment cannot be made by the third employee. The same applies to other combinations of employee/ treatment room/ equipment.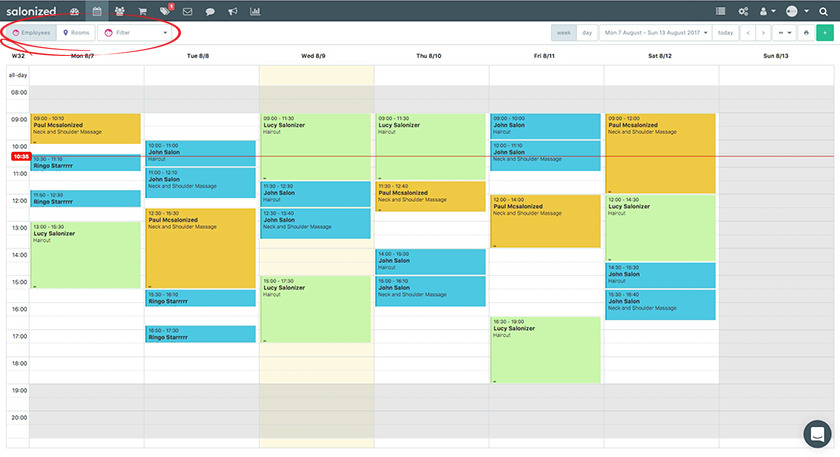 The new advanced calendar is currently a beta feature. All feedback we receive concerning the running and functionality of the calendar can be used to improve it. If you are curious about the functionality of the new calendar, or if you'd like to have a go at trying it out, don't hesitate to contact us. 
Coming up next .... The new dashboard
Also currently in development is the new dashboard, which will provide an preview of calendar bookings for the week ahead. You will also find a clear overview of recently booked online appointments without having to click on the calendar. There is also a to-do list with daily notes, which can be easily called up.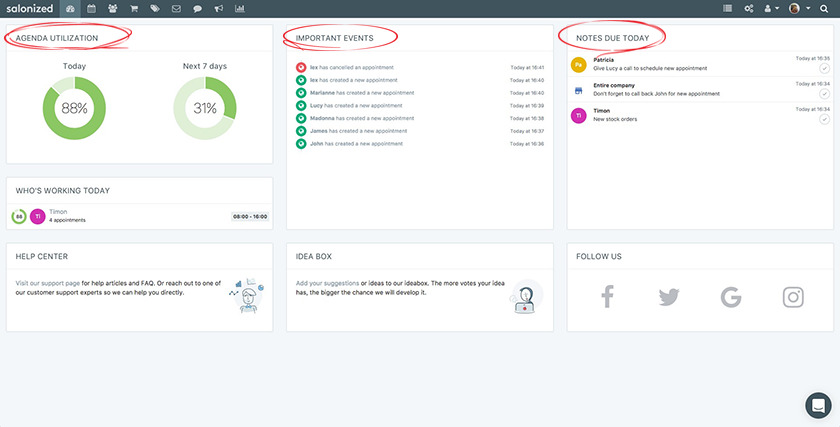 Clearing the way for new developments…
The new smart and accessible Salonized interface is just the forerunner for more upcoming features. Once the whole of the code has been converted to the new system, you can expect many new product updates from us! If you have any questions or comments after reading our blog, don't hesitate to let us know!
Amber Korfage
Product Owner
We call Amber 'Miss Salonized'. This is because she has held a number of different functions within the business and she knows all the secrets of the salon software system and more! All her experience has made her the perfect candidate for her current role as Product Manager, keeping you informed of all the latest Salonized developments.
Most recent articles
Do away with stress, because the sun gives us such a great feeling! And do you jump right out of bed when it's summer time? The sun comes up very early, so you're filled with energy and you get tired less quickly. Almost everyone is at the beach or on vacation, so it might be a lot quieter in the salon. Use it to your advantage. Have you been meaning to cross things off your to-do- list? Now is the moment. Take a plunge into MailChimp A newsletter, update, or temporary promotion, with MailChimp you can promote your company by sending an email you can design yourself. You can create an account via the website www.mailchimp.com. There is a registration process and adding different contact lists. This way you can decide for yourself who gets an email from you. In Salonized, you can easily use the comprehensive filters to automatically synchronize a selection of the customers with MailChimp. Read here how you can link MailChimp to Salonized. Bring in a breath of fresh air into your automatic emails Late-night dates with your phone because you've been busy the entire evening scheduling appointments is a thing of the past. Just another advantage to the salon software. But even things that are automated, need a fresh look at. Is your company data still accurate? Did you, for example, move to another address? Or did you develop a new logo? Make sure your account has the correct company data. The automated messages copy this information when the following appointment is confirmed. Then schedule a test appointment with your own data, so you receive your confirmation email in your inbox. That's a good way to thoroughly examine this email. Seeing your reviews in a more positive light Sunrays make the world look just a tad bit nicer. You're generally more positive and you easily daydream about everything you'd like to accomplish. How do you share this feeling with your customers? Maybe by reaching out to them in person. With the feedback feature in your Salonized account, you can respond to the reviews you got from your customers. This is also possible retrospectively. Spread that summer feeling! Would you like to read more about Salonized online review system? You can, in this blog. Update your social media, give it a summer vibe Every winter, I look forward to it again: going out without having to grab a jacket. You don't need to go on a vacation to have a feeling like you're on vacation. Oftentimes, staying home in the summer is just as fun! Share all your summery adventures in the salon via your social channels. Maybe it's an invitation to the next appointment... Tip 1 Do you have special promotions you'd like to promote during the summer? Or do you go on vacations? Share what you're doing as well as the vacation opening hours on your website. Tip 2 The entire team eating ice-cream, cutting someone's hair outside, or the fact that there is some great air conditioning in the salon. Which fun pictures are you going to post on your Facebook page? Tip 3 Have you added the Book Now button to the bio of your business Instagram page? Bye summer, hello fall! All good things come to an end, including the summer of 2019. Are you planning to offer another promotion in autumn? What kind of promotion is it going to be? Who's going to be your target group and how many treatments will this promotion include? Enough to think about when you're enjoying the last sunrays...
Software. How do you get the most out of your program if you are not technically inclined? You have a morning off and take a seat. After you've poured yourself a nice cup of coffee, open your laptop and rub it in your hands. Time to dive deeper into your software program! But where do you start..? No worries! In this blog I give you more insight into certain (hidden) functions of salon software. I have selected 5 for you to help you on your way: 1. Have important information sent automatically? Yes! Working with a software program takes a lot of work off your hands. Just look at the emails that are sent after every reservation. With the correct customer information, emails are sent automatically, without you having to do anything. Did you know that you can edit them as desired? This is ideal if you want to provide extra information. For example, you can let your customers know that you work at the Amsterdam location on Monday and in your salon in Amstelveen on Tuesday. Congratulations! Do you want to give your customers a little something extra on their birthday? We have made it possible so that you can add a voucher to the birthday message. You can read how to do this step by step via this article. 2. How do you make it easy for your customers to schedule a new appointment? How about a separate booking link? In addition to the booking widget, you can also opt for separate booking links. They look the same, only they skip the employee choice or name of the service. For instance: A booking link for 1 employee You have just taken on a new employee. To let your customers know the good news, you have placed a profile photo and a piece of text on your website. If you place the "Book now" button next to it, you immediately send the customer to the available dates and times of that employee. Et voilà, the first booking has arrived! A discount for a specific service You want to promote your new "Acne treatment" on your Facebook page. You have put a nice sentence on your page with the link. The "Book now" button immediately redirects the customers to the available dates and times for this specific treatment. Please contact us so that we can create this unique link for you. Then the specific treatment can be booked immediately! 3. How do you complete your time registration? Vacuuming, washing dishes, window cleaning ... There are always plenty of things to do in the salon. And when you do this every day, your salon is quickly cleaned up and tidy. In your agenda you can block these times as "Chore". To apply these chores as worked hours in your agenda, we have highlighted the hours in green. This way you have a clear overview and can easily distinguish the hours worked as a chore, from the appointments and absences. Visiting a trade show or workshop with the whole team? You can also create tasks for the entire company. In your time registration you can find these hours again on the basis of the description you have given them. 4. How do absences automatically appear in excel? Public holidays, vacation, an extra long weekend, or: your well-earned days off! Because in addition to all the hard work, you also have to make room for relaxation. Don't forget to include your absences in your agenda! This ensures that an appointment cannot be accidentally booked when you are just relaxing in your beach chair. These absences are recorded via the "Absences" heading. Here you can filter by employee. And choose a specific period. Did you know that these absences are automatically saved in your data export? This file contains all the absences from the past. Both per employee and the absences at company level. So you no longer have to fiddle with excel files yourself! 5. Advanced filtering, what can you do with it? Are you also curious about who your best customers are? Good news, a new filter option has recently been added to the customer filter: the "total amount spent" of the past year. This looks at the amount spent by customers between today and 365 days ago. For example, you can find out quickly which customers spent more than 200 euros in the past year. In addition, the filter option in your customer base is ideal when you want to send an e-mail to a portion of your customers. For example, you have a new massage in the field of relaxation massages, and want to let all customers who have ever been with you for a particular massage know. In this case you can choose the filter to search by service. The steps of applying the filter are explained further in this article. You don't have an online calendar for your salon yet? Clients can easily book in an appointment with the salon software by Salonized. Start your free trial here and add your booking link to your website or Facebook page immediately!
The (online) marketing world is continuously changing and this affects all entrepreneurs into a certain degree. For instance, who does not have a business page on Facebook? We post interesting offers, make-over pictures, promotions and the latest news from the salon. And of course, we hope that most of our followers will see them. In January 2018, Facebook announced that it would make major changes to its news feed. "Bringing People Closer Together" was the title of the press release. Facebook wants to connect people to each other, using posts from friends and family. However, there is another trend on the platform, you can see more posts from Facebook pages and less from friends. This often results in an endless scroll session without of any useful interaction. Which thus results in a less positive user experience. Oh dear. People stop using Facebook. What's next? This makes the alarm bells go off for Facebook. The changes implemented by Facebook during the next few months will have a positive effect on the use of Facebook by persons. For instance, posts from family and friends will become more important. But what will be the effect on the visibility of your business page for your followers? It will be extra important that followers will be active under your posts. What really works are posts which receive reactions, and posts followers want to share with friends. In this respect, you might consider: News from the salon with a personal touch Fun offers Live video in the salon Tips for keeping your "community" active The tactics behind the old model of just sending information, is outdated. It is better to regard your business page as a type of 'community'. What fits this community? Facebook prefers images. Moving images are even better – which means videos. Live videos have the most effect. And are fun to make! Why not make a video while you are working on the latest nail art. Reviews are still the best possible means of advertising. Unfortunately, this is not a matter of waiting and seeing whether customers will post a review on your Facebook page. But of actively asking customers to write a review, for instance after an appointment or via a newsletter. Can't you get around to it? With the Salonized salon software you can automatically sent the customer a review request after the appointment. The feedback tool also makes it very easy to respond to reviews. It goes without saying that the opportunity to schedule an appointment must be on your Facebook page. Facebook offers several call to action buttons which can be used; for instance, a Contact button or a Call-now button. Of course, the best option is the Book-now button. This forwards the customer to your online scheduler, so that they can schedule their appointment with you directly from your Facebook business page! Do you want to get started with reviews and an online schedule? Create a free trial account with Salonized. You can start immediately and our team is ready to assist.