Customer Acquisition is Silver; Customer Retention is Gold
By Amber - on April 06, 2017 comments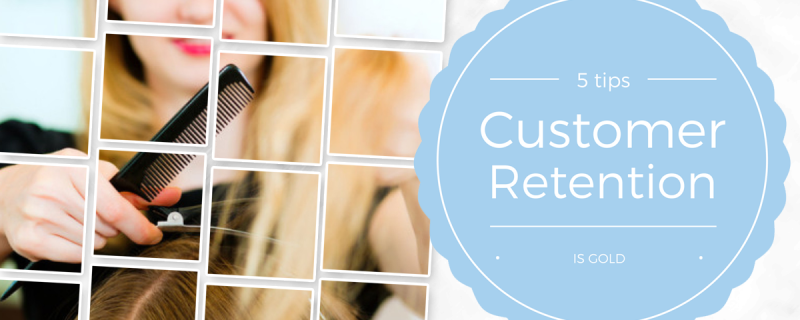 We believe that if your client base already extends over several hundred customers, it is time to shift your focus away from new client outreach. This is the moment to concentrate on first time customer retention instead. If you achieve an increase of this indicator by 2 per cent, it has the same effect on profits as cutting costs by 10 per cent. A great effect! So, what exactly is "first time client retention"?
First time customer retention is the percentage of new customers, on the first visit, that return for a second visit. This has to happen within a specific period, usually 90 days. To turn a new customer into a repeat customer: this is the undisputed growth engine of nearly every kind of business.
How to turn a new customer into a regular
We share some proven ways to improve your first time client retention. Want to start with (one of these) strategies? Always remember to collect and use as much information about your customers as possible. This goes beyond initial contact and the first transaction. You want to sell more than just a service; you are building a relationship! The more information you amass, the more opportunities you have to send personal offers.
Tip 1: A good first impression
Scheduling an appointment is the first direct contact a customer has with your salon. This can be done by phone, but online is becoming the norm nowadays. Therefore, it all starts with the look of your website and Facebook page. Needless to say, the possibility to book an appointment online is key here.
Have you ever clicked away from a website because it was unclear or confusing? The same is true of asking customers to schedule an appointment via your old-school contact form. If, on the other hand, customers can view your availability online and schedule the appointment themselves in the free slot that suits them most, this creates a professional and positive first impression.
Then, if the customer receives an instant appointment confirmation and a reminder the day before, you have put your professional stamp on the interaction. Your customer can look forward to the first appointment in your salon!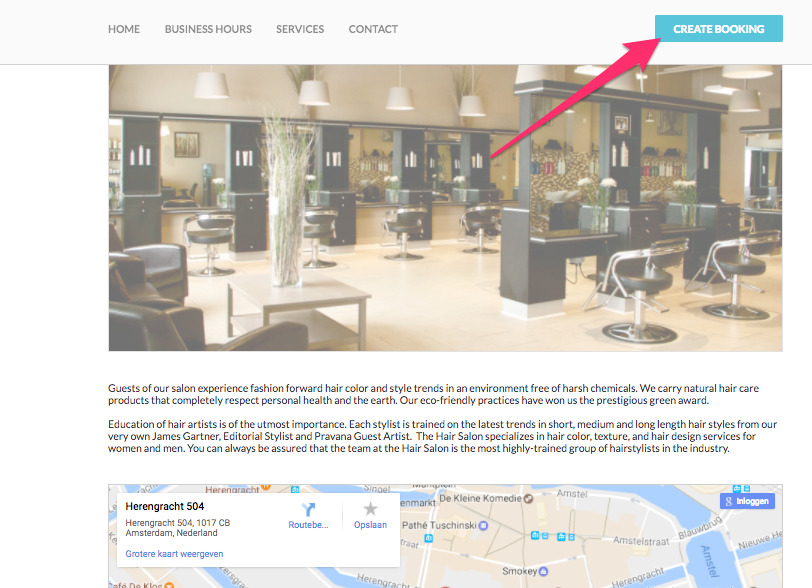 Tip 2: An unforgettable experience
Many salons find that delivering on expectations is the best way to retain new customers. So, how do you make the customer feel welcome?
A good experience begins with greeting the customer and providing consistently great service. You will be surprised how quickly new customers will walk away from you if they do not feel as pampered as your other clients.
Make sure you know what your customers need - even better than themselves! This is done by collecting personal information, e.g. with a sign-up form. In addition, take a minute after checkout to jot down thoughts and details on the appointment. For example, what you did, what products you used, or even how the customer likes her coffee. These notes will make the next appointment flow smoothly and comfortably, and the customer will be pleasantly surprised that you 'remember'! ;-)
Tip 3: Schedule a follow-up appointment
Don't be afraid to ask the customer if you should schedule a follow-up appointment. Don't see it as intrusive but as thoughtful. For example, after a colour treatment, you naturally want your client to maintain the beautiful new colour. So why hesitate to invite her back for a repeat?
In case you don't find the time or opportunity for a post-appointment chat, or you are more comfortable pitching beauty treatments with visual aids, no problem! You can check out our blog with tricks for increasing sales through email newsletters.
Tip 4: Understanding customer satisfaction
Suppose that 40 per cent of your new customers come back for a follow-up. That means you made your best effort for 60 per cent of new customers, yet you never see them again. Could it be that new customers experienced your services differently than you thought? Think of a restaurant visit, for example. The food was or delicious, but the service was poor and the wait was long. What is the chance you return if there are plenty of other eateries around?
Improve what can be improved and maintain a strong team with motivated employees. Keep everyone on their toes by asking customers for feedback and active evaluation of your services. With Salonized, you can send an automatic feedback request after the appointment, which allows willing customers to share their thoughts. That way you can find out whether the room was too hot or too cold, there was too much banter during the relaxing massage, or the waiting time was disappointing.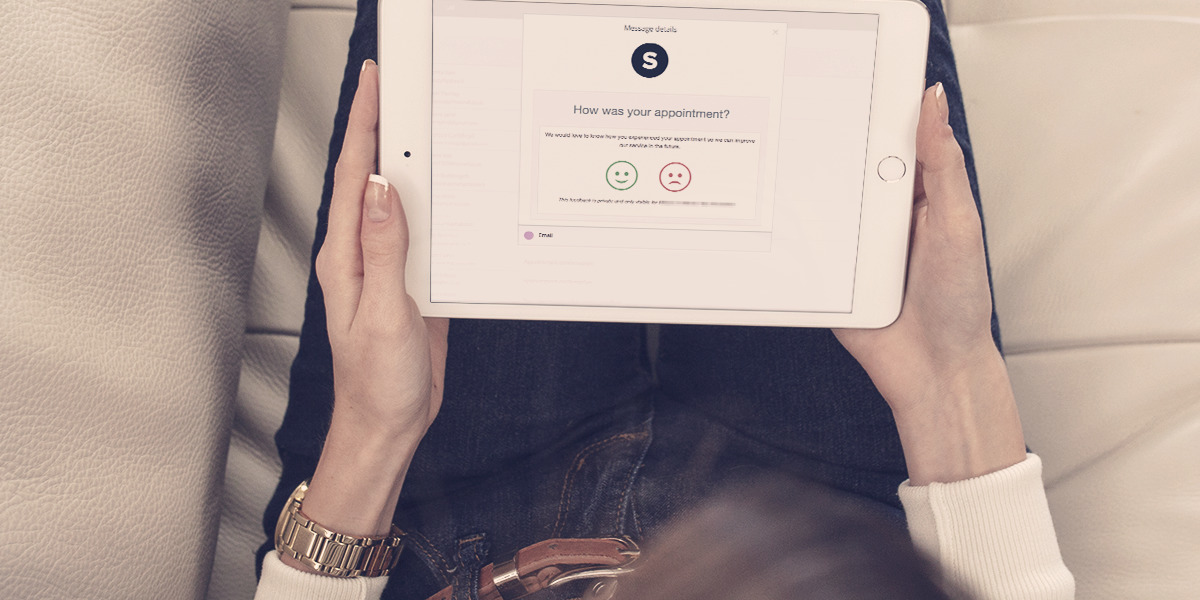 Tip 5: Work on the relationship, even after the customer leaves your doorstep
You give your best to pamper every customer and make them feel special while they are at your salon. But how can you keep building that bond after the client has left? Sending newsletters is a simple, effective, and personal way to stay in touch with your customers. The occasional newsletter in the customer's inbox is enough to gently remind them to book a new appointment. Check out these tips to create the perfect newsletter for your salon in a few steps.
Even better, get smart and start running targeted marketing campaigns. Salonized salon software lets you filter out the new customers from your total base and lets you send them personalised communications. For example, send a special offer for the treatment your customer had the first time, or make them aware of other procedures which could benefit them based on the previous work you did for them.
Which of the above tips do you employ already? In other words, are you working to increase first time client retention yet?
Amber Korfage
Product Owner
We call Amber 'Miss Salonized'. This is because she has held a number of different functions within the business and she knows all the secrets of the salon software system and more! All her experience has made her the perfect candidate for her current role as Product Manager, keeping you informed of all the latest Salonized developments.
Most recent articles
Do away with stress, because the sun gives us such a great feeling! And do you jump right out of bed when it's summer time? The sun comes up very early, so you're filled with energy and you get tired less quickly. Almost everyone is at the beach or on vacation, so it might be a lot quieter in the salon. Use it to your advantage. Have you been meaning to cross things off your to-do- list? Now is the moment. Take a plunge into MailChimp A newsletter, update, or temporary promotion, with MailChimp you can promote your company by sending an email you can design yourself. You can create an account via the website www.mailchimp.com. There is a registration process and adding different contact lists. This way you can decide for yourself who gets an email from you. In Salonized, you can easily use the comprehensive filters to automatically synchronize a selection of the customers with MailChimp. Read here how you can link MailChimp to Salonized. Bring in a breath of fresh air into your automatic emails Late-night dates with your phone because you've been busy the entire evening scheduling appointments is a thing of the past. Just another advantage to the salon software. But even things that are automated, need a fresh look at. Is your company data still accurate? Did you, for example, move to another address? Or did you develop a new logo? Make sure your account has the correct company data. The automated messages copy this information when the following appointment is confirmed. Then schedule a test appointment with your own data, so you receive your confirmation email in your inbox. That's a good way to thoroughly examine this email. Seeing your reviews in a more positive light Sunrays make the world look just a tad bit nicer. You're generally more positive and you easily daydream about everything you'd like to accomplish. How do you share this feeling with your customers? Maybe by reaching out to them in person. With the feedback feature in your Salonized account, you can respond to the reviews you got from your customers. This is also possible retrospectively. Spread that summer feeling! Would you like to read more about Salonized online review system? You can, in this blog. Update your social media, give it a summer vibe Every winter, I look forward to it again: going out without having to grab a jacket. You don't need to go on a vacation to have a feeling like you're on vacation. Oftentimes, staying home in the summer is just as fun! Share all your summery adventures in the salon via your social channels. Maybe it's an invitation to the next appointment... Tip 1 Do you have special promotions you'd like to promote during the summer? Or do you go on vacations? Share what you're doing as well as the vacation opening hours on your website. Tip 2 The entire team eating ice-cream, cutting someone's hair outside, or the fact that there is some great air conditioning in the salon. Which fun pictures are you going to post on your Facebook page? Tip 3 Have you added the Book Now button to the bio of your business Instagram page? Bye summer, hello fall! All good things come to an end, including the summer of 2019. Are you planning to offer another promotion in autumn? What kind of promotion is it going to be? Who's going to be your target group and how many treatments will this promotion include? Enough to think about when you're enjoying the last sunrays...
Software. How do you get the most out of your program if you are not technically inclined? You have a morning off and take a seat. After you've poured yourself a nice cup of coffee, open your laptop and rub it in your hands. Time to dive deeper into your software program! But where do you start..? No worries! In this blog I give you more insight into certain (hidden) functions of salon software. I have selected 5 for you to help you on your way: 1. Have important information sent automatically? Yes! Working with a software program takes a lot of work off your hands. Just look at the emails that are sent after every reservation. With the correct customer information, emails are sent automatically, without you having to do anything. Did you know that you can edit them as desired? This is ideal if you want to provide extra information. For example, you can let your customers know that you work at the Amsterdam location on Monday and in your salon in Amstelveen on Tuesday. Congratulations! Do you want to give your customers a little something extra on their birthday? We have made it possible so that you can add a voucher to the birthday message. You can read how to do this step by step via this article. 2. How do you make it easy for your customers to schedule a new appointment? How about a separate booking link? In addition to the booking widget, you can also opt for separate booking links. They look the same, only they skip the employee choice or name of the service. For instance: A booking link for 1 employee You have just taken on a new employee. To let your customers know the good news, you have placed a profile photo and a piece of text on your website. If you place the "Book now" button next to it, you immediately send the customer to the available dates and times of that employee. Et voilà, the first booking has arrived! A discount for a specific service You want to promote your new "Acne treatment" on your Facebook page. You have put a nice sentence on your page with the link. The "Book now" button immediately redirects the customers to the available dates and times for this specific treatment. Please contact us so that we can create this unique link for you. Then the specific treatment can be booked immediately! 3. How do you complete your time registration? Vacuuming, washing dishes, window cleaning ... There are always plenty of things to do in the salon. And when you do this every day, your salon is quickly cleaned up and tidy. In your agenda you can block these times as "Chore". To apply these chores as worked hours in your agenda, we have highlighted the hours in green. This way you have a clear overview and can easily distinguish the hours worked as a chore, from the appointments and absences. Visiting a trade show or workshop with the whole team? You can also create tasks for the entire company. In your time registration you can find these hours again on the basis of the description you have given them. 4. How do absences automatically appear in excel? Public holidays, vacation, an extra long weekend, or: your well-earned days off! Because in addition to all the hard work, you also have to make room for relaxation. Don't forget to include your absences in your agenda! This ensures that an appointment cannot be accidentally booked when you are just relaxing in your beach chair. These absences are recorded via the "Absences" heading. Here you can filter by employee. And choose a specific period. Did you know that these absences are automatically saved in your data export? This file contains all the absences from the past. Both per employee and the absences at company level. So you no longer have to fiddle with excel files yourself! 5. Advanced filtering, what can you do with it? Are you also curious about who your best customers are? Good news, a new filter option has recently been added to the customer filter: the "total amount spent" of the past year. This looks at the amount spent by customers between today and 365 days ago. For example, you can find out quickly which customers spent more than 200 euros in the past year. In addition, the filter option in your customer base is ideal when you want to send an e-mail to a portion of your customers. For example, you have a new massage in the field of relaxation massages, and want to let all customers who have ever been with you for a particular massage know. In this case you can choose the filter to search by service. The steps of applying the filter are explained further in this article. You don't have an online calendar for your salon yet? Clients can easily book in an appointment with the salon software by Salonized. Start your free trial here and add your booking link to your website or Facebook page immediately!
The (online) marketing world is continuously changing and this affects all entrepreneurs into a certain degree. For instance, who does not have a business page on Facebook? We post interesting offers, make-over pictures, promotions and the latest news from the salon. And of course, we hope that most of our followers will see them. In January 2018, Facebook announced that it would make major changes to its news feed. "Bringing People Closer Together" was the title of the press release. Facebook wants to connect people to each other, using posts from friends and family. However, there is another trend on the platform, you can see more posts from Facebook pages and less from friends. This often results in an endless scroll session without of any useful interaction. Which thus results in a less positive user experience. Oh dear. People stop using Facebook. What's next? This makes the alarm bells go off for Facebook. The changes implemented by Facebook during the next few months will have a positive effect on the use of Facebook by persons. For instance, posts from family and friends will become more important. But what will be the effect on the visibility of your business page for your followers? It will be extra important that followers will be active under your posts. What really works are posts which receive reactions, and posts followers want to share with friends. In this respect, you might consider: News from the salon with a personal touch Fun offers Live video in the salon Tips for keeping your "community" active The tactics behind the old model of just sending information, is outdated. It is better to regard your business page as a type of 'community'. What fits this community? Facebook prefers images. Moving images are even better – which means videos. Live videos have the most effect. And are fun to make! Why not make a video while you are working on the latest nail art. Reviews are still the best possible means of advertising. Unfortunately, this is not a matter of waiting and seeing whether customers will post a review on your Facebook page. But of actively asking customers to write a review, for instance after an appointment or via a newsletter. Can't you get around to it? With the Salonized salon software you can automatically sent the customer a review request after the appointment. The feedback tool also makes it very easy to respond to reviews. It goes without saying that the opportunity to schedule an appointment must be on your Facebook page. Facebook offers several call to action buttons which can be used; for instance, a Contact button or a Call-now button. Of course, the best option is the Book-now button. This forwards the customer to your online scheduler, so that they can schedule their appointment with you directly from your Facebook business page! Do you want to get started with reviews and an online schedule? Create a free trial account with Salonized. You can start immediately and our team is ready to assist.