Six tips for a salon website design that drives more customers to your salon
By Amber - on September 18, 2017 comments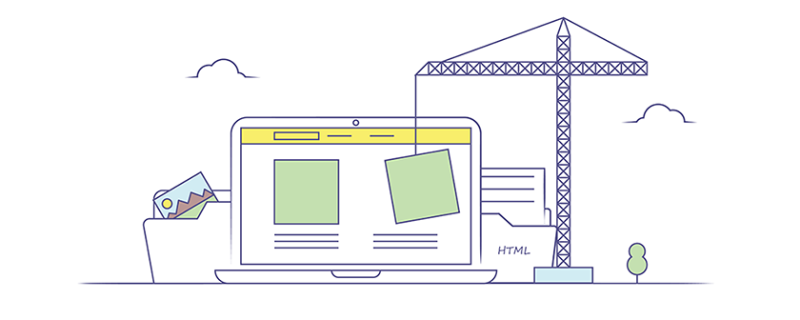 Your website is the online representation of your salon. Think of it as a virtual gallery that triggers potential customers to explore the different services and best offers at your salon. With a great salon website design you keep the attention of potential customers and you will acquire more bookings. This should be the main purpose of your website.


The aim of this blog is to stress the importance of being present online, especially in the year 2017. This involves two essential aspects: discoverability of your salon online and the look of your website. For more information about online discoverability, you can check out our previous blog. This blog provides several tips on how you can positively influence the online discoverability of your website.
 Your salon website design is super important. It eventually decides wether you will gain or lose clients. So now let's focus on the 6 tips for a great web design that will increase your revenue.


6 tips for Salon Websites
Last year, mobile Internet access far exceeded Internet access via desktop. According to figures from Zenith, a whopping 75 percent of all Internet traffic in 2017 is expected to come from mobile devices. That brings us to tip 1:
#1 Mobile Responsiveness is Essential
Over 86 percent of people, like you, use a smartphone. Hence, the probability a customer searches for your salon on their phone is large. A website with "mobile responsive design" automatically adjusts the display to the screen size of the visitor's personal device - be it a laptop, tablet or smartphone.
Curious if your website is mobile responsive? Then visit your website on your smartphone and click around. Is the text legible or does everything seem very small and indistinct? You can also test the "mobile responsive design" by using the free tool from Google to observe the difference.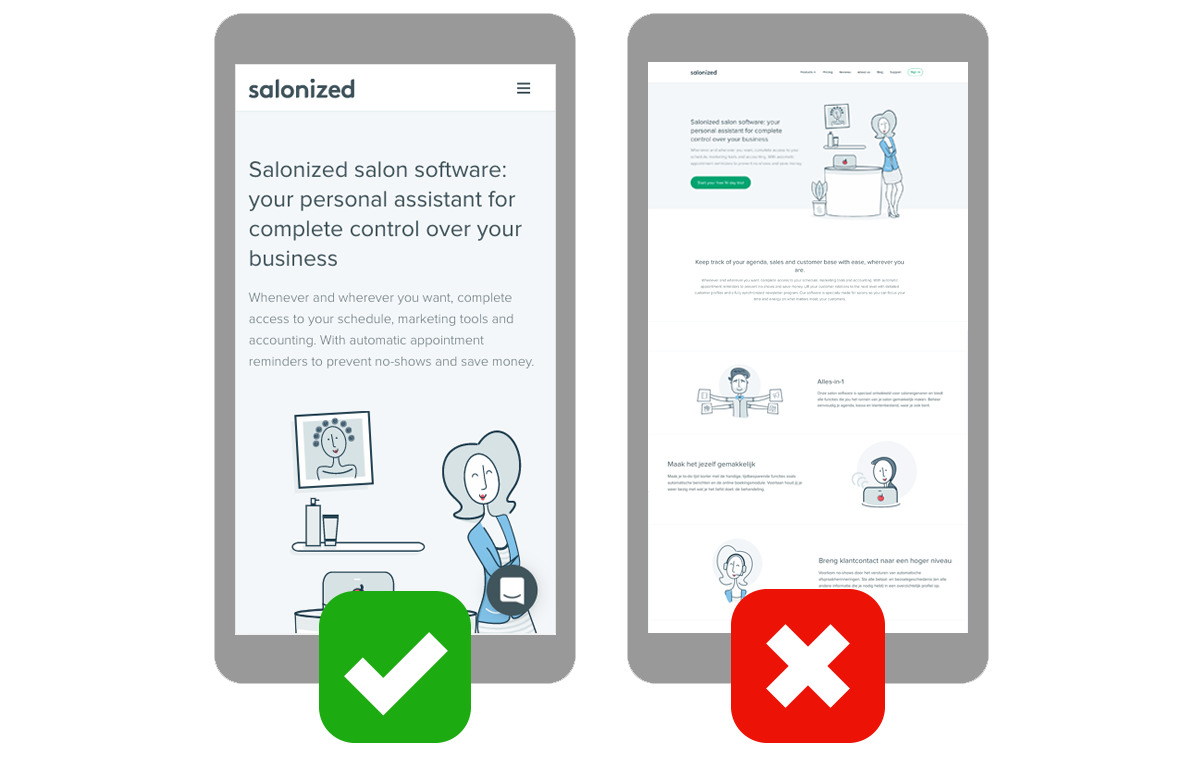 It is proven that websites with no "mobile responsive design" have a much higher bounce rate. This means that people will leave your website immediately before any interaction on your website. Eventually your conversion rate (total website visits divided by total bookings on your website) will be much lower and this will negatively affect your revenue.


#2 Less is More
Less is more in terms of colours, graphics, titles and text. The latest web designs often have calm colours, are uncluttered and user friendly. We say goodbye to pink backgrounds, different fonts and low resolution images. 

The first impression of your salon website will determine if clients stays or goes. If a website looks restless, it will negatively affect the image a client has of your salon. The client will most likely leave your website without even considering to look further. A good salon website design provides a familiar, comfortable feel and looks professional. The customer is likely to expect a professional touch when getting her new hair colour, painted eyebrows or eyelashes done and will love to make a booking on your website.
#3 Portfolio
Customers have many choices when it comes to picking out a salon. It is not just about the services you offer; the customer wants to have a feel of your salon. Therefore, it should be no surprise that vivid, high resolutions pictures are prominent on online booking platforms. Adding a portfolio on your website provides the customer an idea of your salon and the services on offer. Do not use standard image library material (stock photos), but real photos of your salon and results of your work to highlight your capabilities.
#4 Online Appointments
Mobile visitors more often become actual customers. Why? Mobile searches on Google are usually targeted searches (searches with a specific goal) and real time to some extent. Currently 80 percent of people use their mobile to shop. If you need a specific product, you can easily go to amazon.com and purchase the product directly.
The same search behaviour reflects on salons. Whenever customers feel the urge to get their hair or nails done they want to satisfy their needs directly. This means they will either go to Google or their favourite salon's website and make an appointment directly. In a situation like this it is important that your website allows clients to make a booking as simple and fast as possible. An online calendar allows existing and potential customers to book their desired service directly. A customer can immediately see the services you offer, the available times and can book directly. Compare this to a situation where a customer has to call for an appointment and reaches your voicemail 9 out of 10 times. You do the math.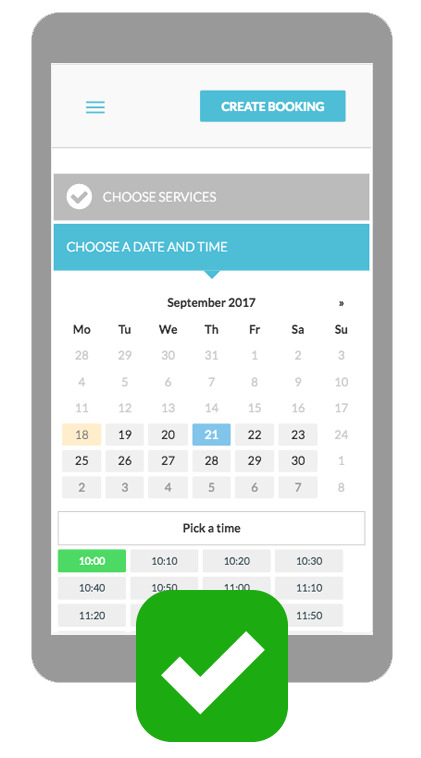 ---
Bonus tip!
How many customers visit your online appointment page and what percentage actually also books an appointment? This is valuable information, which you can obtain by optimising your online appointment page.
Google Analytics makes it possible to gain insight into this aspect. If you work with the online calendar Salonized, you can add a success URL (i.e., the number of customers who make/complete a reservation or booking) to your booking widget. In your Google Analytics account, you can then make a comparison between the number of visitors to your online appointment page, and the number of customers who land on your success URL.
Feel free to contact our customer service to learn more about how to configure Salonized/Google Analytics link.
---
#5 Available 24/7
Following up on the previous section - an online diary on your site - it becomes more common to be accessible for bookings 24/7. Answering voicemails and responding to WhatsApp messages belong to the past with an online diary. All you need to do is to refer to the online calendar on your website where customers can instantly see your availability and book online.
Online bookings appear in your calendar immediately and you will always receive an email notification when a new booking is made. So you easily keep track on changes in your diary. 


Although you are always accessible for your clients with an online diary, it is important to clearly state your opening hours. People who visit your website still want to know your opening hours so they can directly visit your salon. By clearly stating your hours to avoid disappointed clients visiting your salon when you are closed. 

#6 Be easy to find
You can probably find your salon with your eyes closed, but for new clients it can be a bit harder to find the physical location of your salon. Focus on these two aspects so your salon can be easily found:
1) Make it easy for customers to locate the physical location of your salon. Make sure that first-time customers can easily access the address of your salon. The data must be clearly visible on your website, Facebook page and on the automated appointment confirmation and reminder from your online booking software.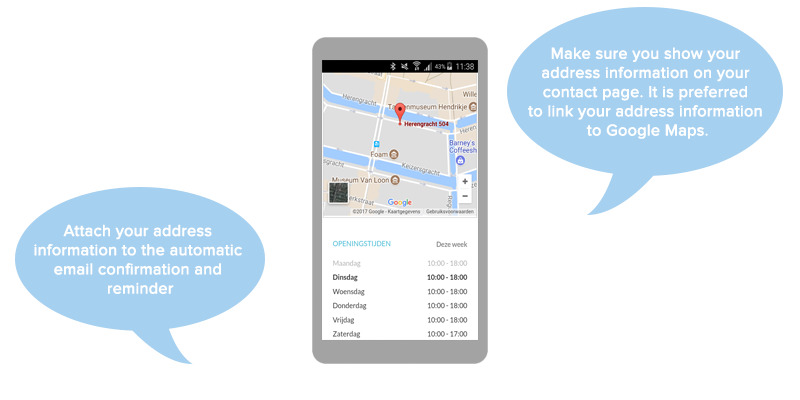 2) Make it easy for customers to find you through Google Places. Second, connect your location to Google Places. When customers search for a hairdresser or beauty salon in Google Places they will quickly see all the salons nearby their location.

Of course you want to end up in that list of salons. If you haven't connected your salon to Google Places you can claim the address of your salon in Google Maps. Just click on this link and claim your location! In our next blog we will provide tips on how to end up higher in the search results of Google Places.
Amber Korfage
Product Owner
We call Amber 'Miss Salonized'. This is because she has held a number of different functions within the business and she knows all the secrets of the salon software system and more! All her experience has made her the perfect candidate for her current role as Product Manager, keeping you informed of all the latest Salonized developments.
Most recent articles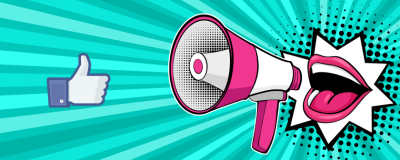 It is widely regarded as the most reliable source of information for making a choice: word-of-mouth recommendations from people you know. We like to base our choice of restaurant, city trip or salon on other people's experiences; they are reliable. A positive review or referral by a friend is also probably worth more to you than even the most promising advertising by the business itself. And that is how it is in the beauty branch as well - the best advertising comes from contented clients. A contented client is happy to talk to people they know about their good experience with your salon. In this blog we explain how you can make the best use of this. The first few months of the year are a particularly good time to start this form of marketing. Because all those New Year resolutions mean booming business for health centres and sports clubs, but they are often less 'booming' for salons. A boost for the quiet months Of course, the basis of a good referral programme (clients who introduce new clients) is happy, satisfied clients. Word-of-mouth publicity is free, but achieving it calls for plenty of effort on the part of you and the team. Because you will only manage to achieve this by offering every client the best possible service, time and time again. Once you have got this right you can set up your own referral programme. This makes it extra tempting for your clients to introduce people. The idea is simple. The first step: you think up a nice offer, for example a discount voucher. The second step: a client recommends your salon to a girlfriend and can give her a discount voucher for a particular amount to be spent on services. The third step: if the girlfriend uses the voucher in your salon your client who made the introduction receives a discount voucher for a particular product A service or a product? As you can see in the example, the new client receives a discount on a service and the existing client receives a discount on a product. Why do it that way round? You want to offer new clients a service; because they are more likely to come back than if you sell them a product. You can always buy a product somewhere else, but the service you offer is unique. Your existing client is already familiar with your services, of course, so you can offer them a nice discount on a product. It's possible that the client has never bought any products from your salon before, and this way you can attract their attention to the products that you sell. How do you start your referral programme? Naturally you should start by promoting your special offer or referral programme among your regular clients. You can tell them about it during an appointment. You could also promote your offer via an email. With the software from Salonized it is easy to send your clients an email or newsletter! Is launching a referral programme worth all the effort it takes? Absolutely. Because research has shown: clients who come along based on a recommendation keep coming back longer as a client. In addition word-of-mouth advertising is cheaper than acquiring new clients via any other channels, and it is much more reliable for new clients because the recommendation comes from a friend. Issuing newsletters is an easy, effective and personal way to keep in touch with your clients. Would you like to make a start? With our blog The perfect salon newsletter in 5 steps you can get started straight away! Influencer marketing The mass use of social media offers many opportunities in the area of referral marketing, because word-of-mouth advertising via social media has a much greater reach. Best of all is if you can get your satisfied client to talk about their experiences with your salon via social media, for example in the form of a review. What do we mean by a greater reach? You only have to think about the rise of influencer marketing. In the case of influencer marketing, a person who has many followers on social media such as Instagram (the "influencer") influences their followers' (your target group's) opinions, emotions and behaviour. This might be via a photo, video or blog about a particular service or product. This way you can quickly reach your target group. Below you will see an example for the cosmetics brand Babor. Naturally this is mainly done by major companies, but the idea is the same if you can enlist the help of your satisfied client on behalf of your salon as an "influencer"! Would you too like to get to work with salon software? Feel free to contact us to talk about the possibilities via the chat icon at the bottom of the page on the right. Or create a free trial account straight away, and discover all the possibilities of Salonized for yourself!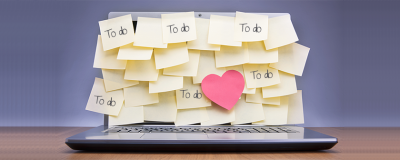 As the owner of a salon you need to wear a number of hats if your salon is to be successful. You are the owner, manager, marketing expert, you keep the book keeping up to date and on top of this your agenda is filled with appointments with clients and representatives. So it is important to organise your tasks, to allocate your time wisely and to manage your agenda. Otherwise you may find yourself torn between the demands of your business and private life, your home and the salon. Sometimes it can be difficult to ensure that you manage your salon, rather than becoming managed by your clients. So we would like to share a few tips, with the aim of achieving a healthy work-life balance! Tip 1: Stop "task-hopping" Unexpected occurrences are often impossible to prevent. The agenda that you drew up for the day in the morning may be knocked totally off course by all sorts of developments. Nevertheless you should always try to focus on doing one thing at a time. Because "hopping" from one task to another is very bad for your productivity. By constantly stopping to carry out smaller tasks (like answering the phone or your emails, or quickly placing an order with a supplier), the really important tasks never get done. Often these are tasks you would prefer to put off to another time. And the result is that you end up having to do them in your own free time. So - do you need to focus on an important task? Then switch off the phone! That way you will avoid being distracted by apps or social media. Tip 2: Preparation is everything Ask yourself for a moment which tasks keep coming back and cost you a lot of time. Doing the accounts, ordering stock, promotional activities (for example a nice newsletter) or bedding in a new member of staff? Make sure you structure these tasks, or even automate them if possible. You might start, for example, by automating your book keeping with a smart till system. With Salonized you can simply download all your transaction information for your book keeping once a month. Turnover, VAT, revenue per payment method; the system just pumps it all out for you. That saves you a lot of time because you no longer have to manually enter it into excel files. Besides this you might think about drawing up a digital handbook for new employees, containing all the standard things that need to be sorted out. This will prevent you forgetting things or having to deal with them in your free time. Because the same thing is true for many tasks: working at home is hard to resist, because it is always possible. And you're not the only one who thinks this, because your clients think so too. For example the clients that app you late in the evening to make an appointment. A better work-life balance will give you more peace of mind. An online agenda will mean that you don't spend your evenings sending WhatsApp messages to and fro with clients about when you have an empty time slot in your agenda. Tip 3: A tight timetable In truth you don't "sell" a facial or a manicure. You sell time. And, just like money, you can't afford to lose or waste any time. You can only use time. That is why it is important to use your time well, because if you don't do so it feels like wasted time. By way of an example, think about those 15 minute gaps between appointments. Although 15 minutes may not seem like much, just think about how much money that time is worth. It could add up to hundreds of euros per month. So you should take a few minutes each day to see what your agenda looks like for the next few days. Are there any 15 minute gaps between appointments? Then call your client and ask if it's possible to move the appointment by 15 minutes. Of course it is also possible to automate this. Within Salonized there is a special setting for your online agenda, which makes sure that clients can only make appointments that follow straight on from each other. This means that clients can only see times that dovetail neatly with other appointments. This produces a tight timetable, which in turn means more cash in your till! How much time do all your tasks take? Curious to find out how much time you spend on your various tasks (such as cleaning, marketing and book keeping) and how much time you spend on appointments? The new tasks function from Salonized makes it easy for you to keep track of tasks as well as appointments in your agenda. You enter a task in the agenda and then in the Reports you can see the precise share of your time that you have spent during each reporting period on "appointments with clients", and "time spent on tasks". Would you like to know how many hours you are really spending at present on tasks, besides your appointments with clients? The salon software from Salonized makes it easy for you to keep your timekeeping up to date and to obtain the information you need. Create a free trial account or contact us, free of obligation!
Various concepts in the beauty industry have different needs. For some it is important to collect the data as complete as possible for the next appointment, for others the checkout should be smooth and without fuss because the next customer is already waiting. Nevertheless, there are a number of functionalities that simplify the daily administrative tasks of each payroll owner. Because if a lot is happening during a busy day in your salon, it is important to keep an overall view. That's why we've been working on our cash register system lately to make it more complete. One of the features we've added is the Cash Up. We think this is a necessary feature to run your salon effectively. Read more about this new functionality in this blog article about the 3 main elements of a cash register system! 1. Daily management A fast checkout flow When you pay in Salonized from the date in your calendar, it will ensure that all information is filled in automatically: the right customer, the service(s) and the employee are directly in the checkout. The current number of loyalty points in the checkout immediately shows whether the customer has already earned enough points, without having to think about the loyalty points card itself. This provides an extra personal customer experience. Inventory management 

To guarantee a prompt service and to avoid any disappointments, it is good to know in time which products are no longer in stock. Automatic stock management ensures that the stock of a product is automatically adjusted after a sale. This allows you to place new orders on time and you can see immediately how much you need to buy, without having to count every time. Gift vouchers 

Uncertainty about your gift vouchers - for example regarding the value or expiration date - is something you naturally want to avoid. This is annoying for you and the customer. That's why it's so handy if you can easily manage them in your cash register system. In Salonized you keep that desired overview; you sell them easily and look them up quickly during checkout. Per receipt you can see exactly what the (remaining) value is and what they have been used for. 2. Data reports Daily report One important daily action to keep track of incoming and outgoing cash is opening and closing the cash register. Thanks to our new feature, the Cash Up, after counting the cash register, a day closure report is automatically drawn up. This report shows exactly what went in and out of the cash register. Also, the expected numbers per payment method (cash, debit card, etc.) are compared with the actual numbers counted for coins and bills of exchange and the debit card printout. This way it makes a possible cash difference transparent. This is an important function to keep a tight grip on daily income and expenses. If you want more information on this, check this page. Financial reports The analysis of data is one of the keys to success. If you know how your company is doing, you can make better decisions. What are the most frequently booked treatments? What are the best-selling products? Which employee has achieved the most turnover? What was this month's performance compared to the same month last year? In the Salonized reports you will find all the answers to these questions. 3. Always access The benefits of cloud software (a program you don't need to install) are that you can access your account anytime, anywhere. You can watch how the day has gone by in the salon, but also from your home. If you work with a team and are not present on a day yourself, you can also log in from home to view the daily report. So, you are never bound to a specific computer or other device, a reassuring feeling! Do you want to try out the cash register and other Salonized features with no strings attached? You can do this by creating a free trial account on our website!